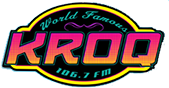 Many Many Thanks KROQ for playing our new tracks from our new album Summer Coma on your radio show.
We've had a great first full week on US radio, debuting on the FMQB Albums Chart at #18, the KKBB Albums Chart at #14, and the KKBB Singles Chart at #12!
As well as our thanks goes to KROQ in Los Angeles, also thanks to KJEE Santa Barbara, CA, WEDG Buffalo, NY, KRZQ Reno, NV, "FTP" on Independent FM Los Angeles, CA & KXRN Laguna Beach, CA, KOSU, The Britrock Show KSHE HD, KMYT Temecula, CA, KACV Amarillo, TX and the syndicated "Lopsided World of L" for airing us over 8 stations nationally and internationally! Among many other radio stations!